Visit us at the automatica 2023
The F.EE group of companies will be a guest at "automatica" for the first time and will present its "Software for Industry" product range, among other things, at the Munich Trade Fair Center from June 27 to 30, 2023. At the booth, visitors can expect exciting highlights for virtual commissioning with "fe.screen-sim", such as the new modules for the simulation of HMI panels, automated guided vehicles and electric monorail systems as well as the software interface to "RoboDk". The development team from F.EE will also present the possibilities of automated and efficient model creation by means of a programming interface and behavioral model library, the new "CAD Optimizer" for simplifying complex data, and the multi-user capability of "fe.screen-sim" live on site. The trade fair presentation will be rounded off with best-practice products for automation and production from the mechanical engineering division of the group of companies.
Meet us in hall B6 at booth 318 and inform yourself about the diverse products from the business units "Software + Systems" as well as "Automation Robotics".
Dates and Tickets
Make an appointment with our automation and software specialists and get also a ticket for free (while stocks last):
fe.screen Software for industry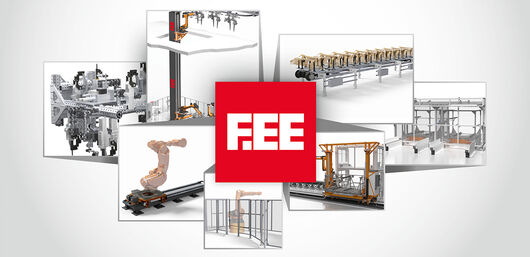 Automation Robotik
Our Automation Robotics business unit sees itself as a specialist and partner to the mechanical and plant engineering industry as well as the automotive and supplier industry. You can therefore look forward to best-practice products, components and systems for automation and production from our mechanical engineering division.
fe.screen Software for Industry
The highlights await you from the field of industrial software: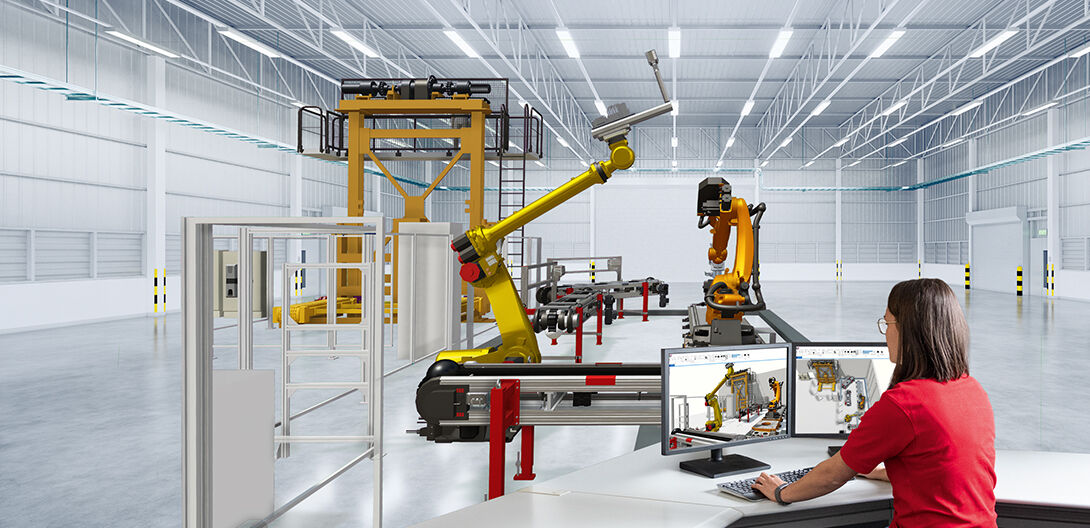 Virtual commissioning with fe.screen-sim
The fe.screen-sim plant simulation software is used for planning, simulation and virtual commissioning of complex conveyor systems and other industrial systems. In addition to a new "Human Machine Interface" (HMI) for the creation and use of HMI panels as well as the completely revised module for the model construction of automated guided vehicles (AGV) and electrified monorail systems (EMS), the simulation software impresses with an open library and its expanded scope of behavioral models. Furthermore fe.screen-sim comes up with the API interface and its extended possibilities for model generation using the Inventor API as an example, a new interface of fe.screen-sim to RoboDk and the new CAD optimizer for simplifying complex CAD data.
Visit the F.EE booth and get in touch with the software developers to learn more about the only true multi-user solution in simulation!
Industrial Internet of Things - simply digitize production
fe.screen-analytics – the cost-effective and fast software solution for getting started with networked production – increases your system's effectiveness on a sustainable basis. In addition to data logging, modules for visualization, value monitoring and energy management are part of the Industrial Internet tool.