Universal linear axes
Automation accessories that set the benchmark: The robot linear axes from F.EE have been in continuous use worldwide, a thousand times over. Thanks to the robust design, high precision and maintainability, they ensure efficient production with their rapid speed and optimum travel. They are also highly versatile in use. They increase the working range of robots, although as linear axes they can also precisely move jigs & fixtures, turntables and other parts and bring them into position.
Features
Suitable for all robot types and manufacturers.
Payload: Robots from 6 to 1300 kg.
Equipment with turntables and chipping, welding and further jigs & fixtures possible.
Ceiling axes, wall axes and every type of custom solution.
Stable base support system from steel profile tubes, as well as hardened and ground flat guide strips.
Drive via ground, hardened rack and pinion.
High stiffness of the running unit with simultaneous maximum possible dynamics.
Bearing loads, running accuracy and speeds can be adjusted depending on the application purpose.
Designed for maintainability, dirt scraper and bolted roller carriages.
Automatic lubrication system.
Steel substructure from the module or as a custom design.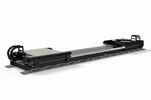 Special applications and project examples
Linear axes with tender carriages and (geo) clamping devices.
Linear axes with turntables.
Storage and retrieval machines on linear axes.
Tool Changer with up to 4 carriages without additional storage and with storage of tools in rotary or Y storage.
Framing / clamping frame changing systems with X-travel paths of up to 30 m.
Product overview and detailed information on the F.EE universal linear axes