Screw data logging and process control
In the final assembly area of automobile production, the unfinished motor vehicle passes through numerous stations in which a few procedures are performed automatically or by the worker in order to further complete the car. These work cycles include countless screw fittings on a range of assemblies, with hand-held or automatic screw systems. Camera systems, Pick-to-Light systems and many more complete the equipment in each of the working cycles. The software fe.screen-sdm , as a configurable standard software for screw data logging with HMI, facilitates management of the diverse control tasks.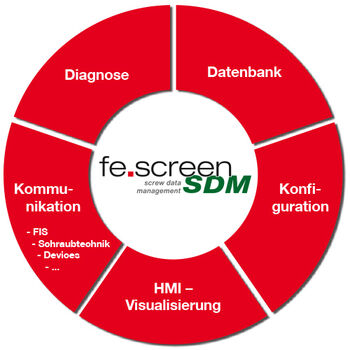 Modularity and expandability
The modular and expandable software controls the devices connected to the production cycle, collects and evaluates screw results, and offers the worker clear graphical user guidance and a rework module.

Through this design based on .NET Framework technologies
it is possible to exchange or expand complete plant parts.
tried and tested plant parts are not influenced by the replacement or expansion, and complete the overall system.
unlimited expandability of work step types exists.
Software features
Complete process and screw system control in the cycle.
Conveyance equipment control via (line) PLC or I/O modules.
Filtering the screw program for the screw systems defined in the cycle and the possibility of local filtering.
Connection of a quality data server and rework stations.
Clear graphical user guidance with HMI.
Central and local configuration.
Control of multiple cycles via a PC.
Maximum flexibility through the requirements-oriented replacement of individual modules.
Advantages
Flexible, comfortable and quality-assured production.
Device diversity: Supports a wide range of signal transducers, I/O modules, screw systems, scanners, camera systems, etc.
Modular and expandable design.
Protocol diversity: Use of standard interfaces and protocols such as Aklan / AklanS, Modbus TCP, RFC1006, ISO 8073, TCP/IP, XML protocol.
Can also be used as a rework station at the line end.