Technology and turbines
F.EE hydropower works together on turbine and machine technology with renowned and proven partners. Close cooperation exists with manufacturers and specialists in turbines and hydraulic steelwork. As a general contractor, we can take over the complete management of your hydropower project, whether it is the renewal of hydraulic turbine controllers or even complete new construction projects, including the construction of the entire infrastructure and buildings.
Service spectrum in turbines and machine technology
Power station types:
Run-of-river plants, storage plants, pumped-storage plants.
Turbine types:
Water wheel
Cross-flow turbines
Francis turbines
Kaplan turbines
Pelton turbines
VLH turbines (Very-Low-Head)
Hydrodynamic screws
Generators:
Synchronous and asynchronous generators
Constant and variable speed generators






VLH turbines
VLH turbines (Very-Low-Head turbines, http://www.vlh-turbine.com) are an ecological technology in turbine development, which can be used in locations which were previously not economically or ecologically feasible. For example, F.EE has been responsible for the superposed control of the Au power plant (to the project side) and installed and commissioned it. We would be pleased to inform you about the possibilities of the system technology.
Hydrodynamic screws
The concept of hydrodynamic screws is more frequently in use today than the relatively new VLH turbine technology. They are characterised in particular by their low sensitivity to level fluctuations and are especially kind to fish and other aquatic organisms. They can also be operated economically and with high levels of efficiency where gradients are minimal. Furthermore, the water engineering works are less complex than with run-of-river power plants with turbines. F.EE can also reliably implement general contractor assignments and inform customers of the possibilities and advantages of hydrodynamic screws during the planning phase.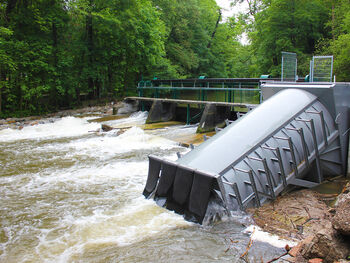 Movable power plants
Movable power plants consist of a compact modular unit of internal Kaplan turbines with generator directly mounted on the turbine shaft. The mobile powerhouse can be subjected to over and under currents, and the complete structure blends harmoniously into the landscape. Due to the resultant ejector effect, it is possible to achieve 5 to 7 percent higher annual yields with mobile power plants than conventional power plants. Possible application areas also include weir systems with minimal gradients. Particular advantages, aside from the efficiency and the compact and inconspicuous structure, are the low operating noise and fish compatibility.
Compact control
F.EE has developed a control system for small hydroelectric power plants according to the motto "Low Budget but High Concept". A cost-effective solution with high-quality industrial components that guarantee long-term operational reliability and spare parts availability. The result is a standardised HydroCompactPower (HCP) control system in modular design. The power section, the control electronics and the operating level are built into a compact control cabinet housing and enable the operation of all common turbine types up to 75 kW.
The double regulated Francis turbine
With the double regulated, variable speed Francis turbine, speed optimisation by means of a frequency converter leads to a considerable increase in efficiency as well as an increase in the annual working hours – without any structural intervention during conversion. Furthermore, the efficiency is significantly improved in the partial load range
Control cabinet construction
All hydropower control cabinets are produced in our own production centre in Neunburg v. W.