Modular compact control for micro-hydroelectric power stations
Numerous micro-hydroelectric power stations are installed in the German-speaking region, often for reasons of tradition and to supply power according to individual requirements. However, they also deliver the power they generate to the energy suppliers. With the HydroCompact Power 75 F.EE hydropower has created an innovative compact control in a standardised modular design for the modernisation or new installation of micro-hydroelectric power stations.
The concept
In light of the low yields they generate and the associated lengthy amortisation periods for modernisation measures, the technical equipment of many micro-hydro power stations is in need of repair. The supposed high costs are often partly due to the individual nature of the power plants.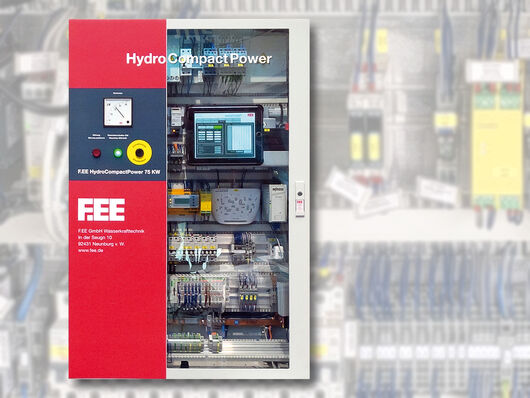 F.EE has tasked itself with developing a control system for micro-hydro power stations in accordance with the motto "Low Budget but High Concept". The starting point for this was the idea of developing a small control that constitutes a cost effective solution. At the same time, high quality industry components should also be used, which guarantee long-term operational reliability and the availability of spare parts.
The result is a standardised control system Hydro-CompactPower in a modular design, which covers a broad spectrum of requirements as standard. The power section, control electronics and operating level are integrated in a compact control cabinet enclosure and enable the operation of all conventional turbine types up to 75 kW, such as Francis, Kaplan, Pelton and cross-flow turbines. Water wheels and hydrodynamic screws can also be operated with the compact control.
Basic functions for 1-fold regulated turbines
Network monitoring per VDE-AR-N 4105
Feed via residual current circuit breaker and 4-pole mains disconnection per TAB
Generator branch for surge current and short circuit protection, and current asymmetry
All-pole measurement of current/voltage/frequency/active power/reactive power/cos-phi
24 V DC battery system
Safety shut-off / emergency shut-off / surge current protection for supply line and level measurements
PLC small control system per high industry standard
Sensor systems: 1x level measurement, 1x guide wheel opening, 1x speed sensor
Web visualisation integrated in the PLC
LAN, WLAN access point
Options for special requirements
Delivery of hydraulic units for turbine adjustment
Frequency converter for variable-speed turbines
You can find further features and options in the information sheet for the HCP 75.





Advantages
Long-lived and reliable
Innovative operation
Independent assembly possible
Cost effective and rapidly available
Control cabinet construction
All hydropower control cabinets are produced in our own construction centre in Neunburg v. W.