Direct marketing for operators of hydropower plants and other forms of electricity generation
You want to achieve maximum revenues with your hydropower plant? Then F.EE is now also available to you as a competent partner for the entry into (subsidized) direct marketing.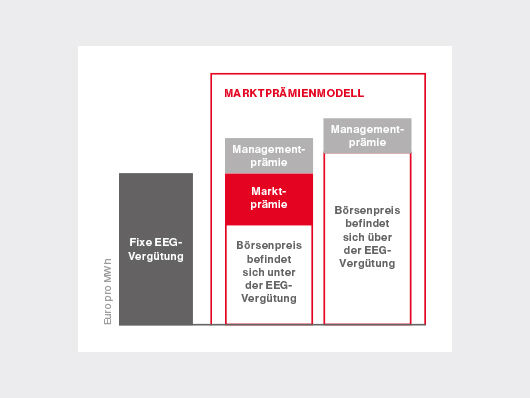 MARKET PREMIUM MODEL
We have developed a system specifically for this purpose, which bundles the interests of hydropower operators and places them on the market with a qualified partner. Under the market premium model, you as a plant operator receive not only the market value but also the market and management premium, which means that you can generate additional revenue compared to the EEG remuneration.
fe.box hyrod rddv
With the "fe.box hydro rddv" developed by F.EE, all required data is made available to you transparently via the "F.EE Redispatch Portal". The only requirement for the power plant connection is an existing ripple control device*). Otherwise, the F.EE solution works with any control unit and is also prepared for the redispatch real-time data required by the grid operator.
*) An existing Internet connection and a 24 VDC/230 VAC power supply are required for Internet data transmission; data transmission via integrable mobile radio solution optionally possible.
Your advantages with F.EE:
Everything from one source: F.EE takes care of all issues regarding redispatch, direct marketing as well as the technical connection and ensures a worry-free switch from the fixed EEG remuneration to direct marketing and - if necessary - back again.
Competent support: Competent contact persons are available by telephone for all questions - whether about redispatch and/or direct marketing or of a technical nature.
Transparency: With the help of the "F.EE-Redispatch-Portal" you will be able to see if and when your plant was disconnected by the grid operator and/or direct marketer.
Control cabinet construction
All hydropower control cabinets are produced in our own production centre in Neunburg v. W.