Industrial Internet of Things – Digitization of production
DATA Logging and visualization
Data acquisition and data visualization in production can be challenging, not only due to inhomogeneous machine landscapes. Solutions are required that, in the age of the Industrial Internet of Things, implement the digitization of production processes quickly and, above all, easily. Data has to be recorded automatically and visualized compactly.

Networked production
fe.screen-analytics, a cheap and fast software solution, offers you the entry into networked production as a complete package in order to increase your system efficiency and without burdening your resources. In addition to data recording (automatic or manual), in which all common controllers and sensors can be connected independently of the manufacturer, the modules include visualization (in every browser and terminal), value monitoring (including simple notifications) and energy management. For integration into your IT environment, optional interfaces to ERP or MES systems are also possible.
Fundable energy management system
The German Federal Office of Economics and Export Control (BAFA) subsidizes the initial certification of an energy management system according to ISO 50001 and the associated investment costs. Since fe.screen-analytics with its "energy management"-module contributes significantly to resource conservation and sustainable cost reduction, the software has now been included in the list of fundable energy management systems.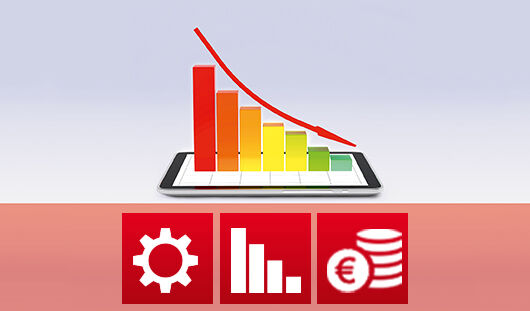 Features and modules
Data recording

Manufacturer-independent connection of all common controls, measuring instruments and sensors.
S7 ISO, Modbus RTU / TCP, OPC DA, OPC UA.
Recording also possible via machine-readable documents.

Visualization

Web client as basic access via stationary and mobile devices.
Trend displays, histograms and more 24/7 worldwide.

Monitoring values

Standstill monitoring
Monitoring of limit values, including time tolerances.
Notifications by SMS or e-mail to defined contact lists.

Energy management

Consumption investigations and evaluations.
Load profiles, annual duration lines and more.
Export of the consumption (different file formats possible).





Advantages
Affordable and quick to implement.
Web client as basic access via stationary and mobile devices.
Connection of all common controls, measuring devices and sensors.
Increase the performance and effectiveness of your production plant.
The system can be expanded with other functions to fe.screen-mes or operated as a sub-system for an MES solution.
Funding opportunities by the Federal Office of Economics and Export Control