Company history
Every successful company history begins with a courageous decision. Hans Fleischmann made this decision in 1982. He laid the foundation for a success story that continues to this day: 40 years later, we can celebrate this anniversary!
We are looking forward to taking you on a journey through 40 years of F.EE this year with a series of interesting employee stories, exciting pictures and videos.
Stories of our employees
40 years is a big anniversary for F.EE - but also many of our employees can celebrate their anniversaries this year. Look forward to many exciting stories and interesting insights into our company history!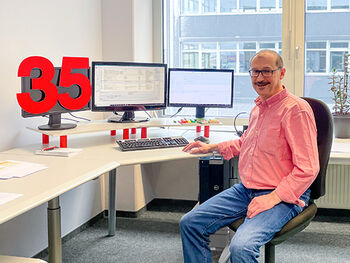 Like many great companies, it all started in a garage!
In 2022, F.EE will be 40 years old - and we would like to introduce one of our longest-serving employees today: Max has been with us for more than 35 years, so he has witnessed F.EE's development almost from the beginning.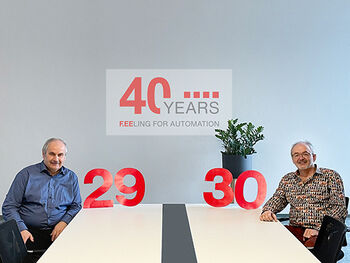 Insight into 30 years of F.EE sales
In our last interview, you already met Max, who has been working at F.EE for more than 35 years. With 59 years of employment, we can even top this number – however, we have invited two colleagues for today's interview: With Wilfried and Heiner, we may give you an insight into the F.EE sales department.
Insights into times gone by
F.EE employees - past and present
On the occasion of our 40th anniversary, we went through our photo archives and came across some great shots. Of course we don't want to withhold these from you and therefore start a small series with a comparison of current photos and pictures from past times.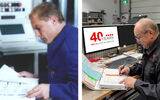 Structural Development
A lot has happened at F.EE in the last 40 years: To accommodate the enormous growth process, our buildings have also had to evolve. Therefore, in our anniversary year, we would also like to take you on a journey through F.EE's structural development.




















Company history
Highlights gab es im Laufe der Jahre viele – Die Aufnahme in die Reihe der Digitalen Champions in Bayern im Jahr 2017 ist eines der aktuellsten.
1982 – 2022
F.EE started out as a specialist in control cabinet technology. The company group, with its four business divisions and representatives at home and abroad, is now synonymous with outstanding automation technology for industry and realises worldwide projects in the fields of automation technology, machinery construction and robotics, software and industrial IT, as well as power engineering.
| | |
| --- | --- |
| | Founded by Hans Fleischmann. |
| | Change of name to F.EE GmbH and relocation to the current company headquarters. |
| | Founding of the branch in Frankfurt am Main. |
| | Opening of the branch in Birmingham / England. |
| | Foundation of the branch in Guadalajara / Mexico. |
| | Founding of F.EE GmbH Automation in Neunburg v. W. |
| | New Business Unit Software + Systems. |
| | Foundation of the branch in Cologne. |
| | Opening of the branch in Barcelona / Spain. |
| | Globalization towards Asia, USA. |
| | Opening of the control cabinet construction centre (SFZ) - 3,000 m². |
| | Foundation of the branch in Spartanburg, USA. |
| | Foundation of the branch in Leipzig. Extension of the SFZ to 8,500 m². |
| | Founding of F.EE GmbH Automation in Barcelona / Spain. Relocation of US branch from Spartanburg to Chattanooga. |
| | Foundation of the branch in Istanbul / Turkey. |
| | Expansion of the production halls of the Automation Robotics division (11,000 m²). |
| | Construction of another office building with canteen on 4,000 m². |
| | F.EE grows to 1,000 employees worldwide. Foundation of the branch in Vinkovci / Croatia. |
| | Twice awarded as Germany's best training company (2018 + 2019) in the automation technology category. |
| | 40th anniversary of F.EE group of companies. To the press release. |