Course: Bachelor's degree, Master's degree
Your first university semesters are over and were a complete success? Then you can enjoy what comes next: Prove yourself in the practical semester or show what you've got with your dissertation!
Bachelor's and Master's dissertations
We at F.EE are known for our specialist and personalised support to Bachelor's and Master's dissertations in the specialist fields of electrical engineering, mechatronics, computer science and mechanical engineering, and we offer suitable topics in these areas at all times.
What we require in advance is a short summary of your background, as well as the specialist division in which the work should take place, and information on the position and length of the time frame available. Once we have this, the respective specialist division will propose a topic. You have already prepared your own possible idea? Also good! In that case we will check whether this is also feasible for us, and whether it fits with the support we offer.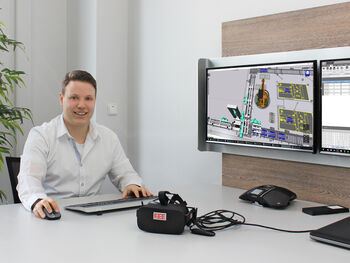 The F.EE benefits
We offer Christmas, additional and vacation pay (~ 13.7 salaries), staff discounts, a voucher card (50 euros per month) as well as a company pension plan. In addition, you benefit from 30 days of vacation, flexible working hours (job-related), subsidized lunch, and various health measures for the well-being of our employees.
University flyer (German language)
You can also find further information and helpful tips in our university flyer.
This also contains an introduction to the four F.EE company divisions and the application possibilities after successfully completing your studies.