Get started after successful further education
The decision to opt for further education as a technician or line manager is made, a place on the course has been found and the first months there have gone well. It is therefore almost time to think about the right project work and the personalised and specialist support this requires.
Project work and dissertations
At F.EE we have a good link with many technical colleges and line manager courses in the fields of electrical engineering, mechatronics, computer science and mechanical engineering, and we constantly offer the option of completing project work and dissertations in these areas - as individual work or for teams.
What we require in advance is a short summary of your background, as well as the specialist division in which the work should take place, and information on the planned duration and the time frame available. As soon as we have this, the respective specialist division will propose a subject. If you already have an idea for the topic then that is also good. In this case we will look at the extent to which we can provide support to this.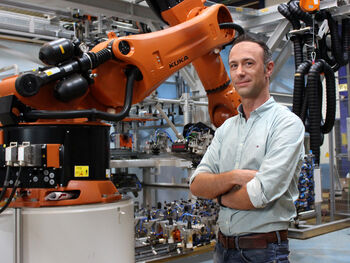 The F.EE benefits
We offer Christmas, additional and vacation pay (~ 13.7 salaries), staff discounts, a voucher card (50 euros per month) as well as a company pension plan. In addition, you benefit from 30 days of vacation, flexible working hours (job-related), subsidized lunch, and various health measures for the well-being of our employees.
Technician flyer (German language)
You can also find further information and helpful tips in our technician flyer.
This also contains an introduction to the four F.EE company divisions and the application possibilities after successfully completing your further education.