Insights into 30 years of F.EE sales
Wilfried, Heiner: We start with the time before F.EE and would like to ask you to briefly give us an insight into your training and professional career before you started with us.
Wilfried: After my apprenticeship as an energy system electronics technician, I worked for a year at a large automobile manufacturer in the body shop maintenance department. Then I completed a degree in power engineering and subsequently worked for four years in sales and global project management for an international company. During a weekend visit to my parents, I read an F.EE job ad in the daily newspaper and then sought out a conversation with my former vocational school colleague, who still works at F.EE today. Although the position was actually advertised for a hardware planner, Hans Fleischmann wanted to get to know me and after three conversations, the decision was made for F.EE, which, by the way, I have never regretted.
Heiner: My professional career also started with a practical training - namely as an electrician. After completing this and my military service, I studied engineering in the field of "electrical and energy technology". I then gained my first professional experience at a company specializing in the hydropower sector. Since I wanted to change professionally after five years, but at the same time stay in the region, I became aware of F.EE through acquaintances and applied.
Wilfried, can you still remember the situation at that time regarding F.EE employees and buildings?
Wilfried: Yes, of course! When I started, there were about 30 to 35 people employed in the only company building at that time. In addition to offices, the first floor housed, among other things, the control cabinet construction and a small warehouse. At that time, I was the first employee in the sales department.
Heiner, as we know, you played a major role in setting up the hydropower division at F.EE, although the beginnings here were certainly not easy, were they?
Heiner: Oh yes! When I took up my position at F.EE in 1993, I naturally tried to build on existing customer contacts in the hydropower sector. However, it quickly turned out that especially the lack of awareness and experience of F.EE was a huge hurdle. The "breakthrough" came in 1994 after one year of acquisition work, when we were allowed to realize a first project. Several more projects with this company followed in the 1990s. After that, we were able to steadily expand our experience – especially in the field of smaller hydropower plants. Up to the 2000s, the hydropower sector grew continuously: In the course of time, we were able to increase our name recognition and successively expand our clientele. In the meantime, F.EE has realized projects at about 400 hydropower plants.
Which brings us to your current work: How can we imagine your daily work?
Wilfried: My area of responsibility lies in the classic sales work - i.e. in addition to the acquisition of new customers, also in the sifting, checking and distribution of inquiries, the execution of price and contract negotiations as well as the discussion of inquiries, offers and calculations - both internally and externally.
Heiner: My area is more project planning. In hydropower, it is rarely the case that the customer comes to us with clear ideas. That means that when we receive an inquiry, I first assess the condition of the plant, then check and analyze the extent to which the technology needs to be renewed, what changes make sense, and work out the technical concept. The project planning is then drawn up in consultation with my colleagues in sales and the technical departments.
What was the best project for you at F.EE?
Wilfried: That is really difficult. Among many other projects in the automotive sector, I remember the construction of a product line, where we received the order for the new construction of welding systems with several 100 robots.
Heiner: For me, the projects in the 1990s mentioned above are among the most interesting. Until 2010, I myself was involved in commissioning projects, and the great thing is to see on site that months of work on a project lead to success. I also have fond memories of the great atmosphere among my colleagues on the construction sites. It is also always exciting for me to see technology in our hydropower projects, some of which is 100 years old, and then bring it up to date.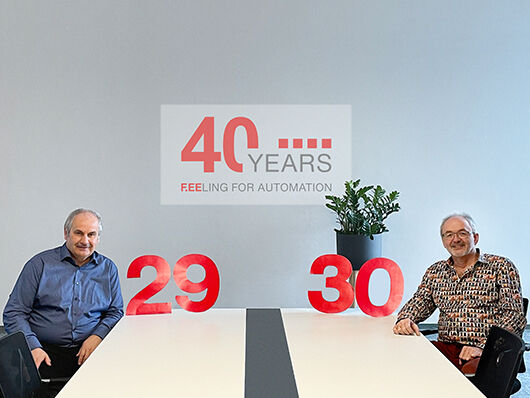 What is the most important thing you have learned at F.EE and what tips can you perhaps give to colleagues with less professional experience?
Wilfried: I have always experienced a strong and positive culture of mistakes and a very high level of trust in our company. This has always given me the courage to try new things, make decisions and take responsibility. From my point of view, it's important to maintain honest, cross-departmental communication, to always see the "big picture," and not to take decisions personally and evaluate them in the long term.
Heiner: Quite simply, "Nothing comes from nothing!" For me, the most important thing is the motivation for the daily tasks, then you can do everything professionally. Young colleagues today have to learn a lot more in a very short time because we are at a much higher technical level today. That only works with the right motivation.
Which highlight at F.EE do you remember most fondly?
Wilfried: My highlight is and remains the start at F.EE: In the beginning, I didn't have my own desk and my PC was in the only meeting room. When meetings took place there, I used Hans Fleischmann's workstation. But - this much must also be said - F.EE was one of the few companies at that time where internal communication was already done by e-mail.
Heiner: Among my highlights are the earlier "Drehfeste", when the machine was put into operation for the first time, and our Christmas parties, which unfortunately had to be cancelled in recent years due to corona. I will also certainly not forget the times when the entire site team marched to the Defilier march from the site to the dinner.
What do you wish F.EE for the future?
Wilfried: I wish F.EE continued positive development - both in terms of customers and employees.
Heiner: I wish F.EE that the good cooperation between the departments as well as the innovative strength will be maintained and that personal responsibility will remain superior to bureaucracy.
Dear Wilfried, dear Heiner: We thank you very much for your time and the great interview.