"SO EINE PRAXISNAHE AUSBILDUNG BIETET NICHT JEDE FIRMA AN!"
In the series "Azubi-Talk", we will interview trainees from various disciplines, who will give us an insight into their time at F.EE and their activities. We will start with Lena, who has been training as an electronics technician for automation and systems technology since September 2020.
Lena, how did you hear about F.EE back then?
My father also works at F.EE, so I heard about the company quite early on. In addition, there were a few events at our school where I got information - in addition to job fairs, there was also a LOGO programming course held by my current instructor, Thomas Schmid. There I gained my first experience in the field of "programming" and I really liked it. In the end, I decided to train as an electronics technician.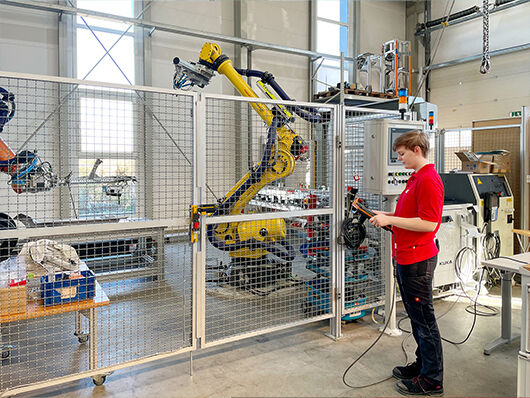 How does the training to become an electronics technician for automation technology work?
The training is divided into two parts: On the one hand, you attend classes at the vocational school, which takes place in Schwandorf during the first year of training and in Weiden from the second year onward. On the other hand, we are on the road here in the company - in the first year in the control cabinet production center. After that, we complete a project in the training workshop or in the training facility in the former EE pre-assembly, and from the third year of the apprenticeship, we are then deployed in various specialist departments.
That sounds like a lot of variety! What does that look like in terms of the activities you learn during your apprenticeship?
Our tasks, which we will later be able to carry out as future skilled workers, are very wide-ranging: One important activity is, of course, wiring - which we learn in the first year of our apprenticeship in the control cabinet production center. We also attend a two-week basic course in metalworking and draw circuit diagrams. The preparation of test protocols - for example for the DGUV 3 test - as well as various safeguarding activities such as risk assessments, the creation of safety programs or the safety shutdown matrix test are also part of our tasks. In addition, we deal with PLC and robot programming, the virtual commissioning of plants with "fe.screen-sim" and the preparation of visualizations or the design of HMI interfaces - and finally the commissioning of plants.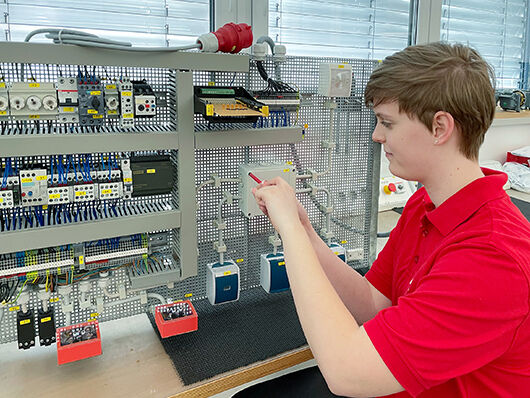 Many of the activities you describe are related to the second year of your apprenticeship, in which you completely commission a training plant as a group. Why don't you tell us more about this?
This project is generally one of the highlights of my apprenticeship: Together with our trainer, Stefan Lankes, we completely commissioned a plant - from planning and installation to the final run. That was very exciting, especially because we were allowed to implement our own project. The fact that it was not intended for a customer gave us the opportunity to try things out for ourselves and find our strengths. Personally, I really liked the robotics teaching. Not every training company offers such a project.
That sounds exciting. After this project, you'll move on to the third year of your apprenticeship and the individual departments. In which areas are you active here?
Some of us apprentices are assigned to the control cabinet production center in the third year. The other departments are then "Hardware Engineering" or "Software and Commissioning". I'm currently working in hardware engineering, where I get to look over the shoulders of my experienced colleagues.
Can you explain that in more detail?
For example, in the second year of our apprenticeship, we are allowed to operate the training system from the start of the project to the final run-through, so we can "practice" the project business in advance. Here we are allowed to make mistakes - from which we learn and which help us to progress. I really appreciate that, because the trainers take the time to explain things to us again. We then build on this from the third year of the apprenticeship, when we work on projects together with our colleagues.
So would you do your apprenticeship again at F.EE?
Definitely! In addition to the points already mentioned, we are also prepared here in the best possible way for our intermediate and final exams - for example, in that we spend the first year of our apprenticeship focusing on switching and can learn how to wire from experienced colleagues. These activities are tested in the intermediate exam, and we can practice for this in the best possible way. But I also feel well prepared for the final exam, because we get to know the different facets of the profession during the three and a half years. The training is very practical.
Last but not least, we have unfortunately already reached the last question: Can you tell us what you do when you are not completing your training at F.EE?
Privately, I really enjoy being out and about in nature: I come from Lower Saxony, where mountains are scarce. That's why I like to go hiking and I also enjoy swimming.
Lena, thank you very much for taking the time to talk to us about your training so far. We wish you and your trainee colleagues every success for the rest of your training!