These tasks are waiting for you:
Do you love automation technology as much as we do? As an electronics technician (m/f/d), you'll be up close and personal when complex industrial plants are planned, built and automated.
Your training at F.EE begins in our training center. Here you will learn how our systems are constructed and how they work. You can then apply this knowledge to the wiring of your own control cabinets.
In your second year of training, you will be part of an internal apprentice project in which a robot cell is implemented step by step. You will draw up the circuit diagrams, assemble the control cabinets and take care of the electrical installation. In addition, you will learn how to program PLC controls and robots so that you can put the system into operation. We have summarized all the activities you will complete this year in the film "Planning, installation and commissioning of a training system".
In the process, you will get to know our various specialist areas one after the other and can specialize from the third year of training onwards - depending on your inclination and interests.
What you should bring with you:
A good intermediate school leaving certificate (e.g. a secondary school).
Good grades in math and physics.
Interest in modern (electrical) technology and ideally also in programming.
Sense of responsibility, reliability and diligence during work.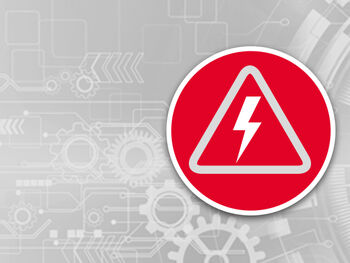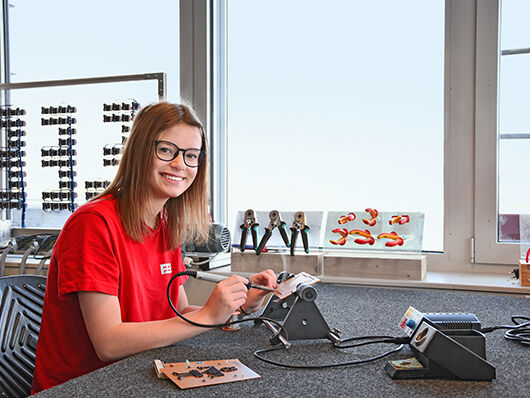 Facts about vocational training:
Duration: 3.5 years.
Vocational school: Block teaching. In the first year of training: In Schwandorf. From the second year of training: In Weiden.
Opportunities for further training: Technician or master craftsman (m/f/d). | Bachelor's or Master's degree [B. Eng.] in electrical engineering or mechatronics (m/f/d).
A special aspect of your vocational training at F.EE:
In the second year of your vocational training, you will have the opportunity to work with your apprentice colleagues on the project "Planning, installation and commissioning of a training system". This is not only fun, but you also get to know the various activities that occur during an automation project.
In this way, you are optimally prepared for your future professional life!
Interview with Lena – Trainee as an electric technician for automation and system technics
ALL INFORMATIONEN AT A GLANCE *
* This information is only available in German.
* When applying by e-mail to ausbildung@fee.de, please only use PDF files as attachments. The total amount of data should not exceed 5 MB.